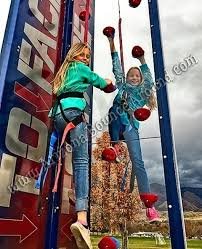 Face to Face Climbing Wall
NEW! Stare down your opponent as you race to the top of this 20ft tall climbing wall! The LED timer displays the winning time, and an LED light strip flashes the color of the winning side. Speed climbing is set to be the next big Olympic sport. Give your guest a taste of the action with the new Face-to-Face-Race!
Price includes; Attendent and Three hours of climbing time.
No electric needed